Priority: Affordable & Reliable Service
OPPD's mission is to provide affordable, reliable and environmentally-sensitive energy services to its customer-owners. Fortunately we can have all three.
First, affordability. The board held rates flat for five years (2017 - 2021). And while a rate increase was necessary in 2022, it was modest. The board's strategic direction related to rates is focused on affordability with a directional rate target of 20% below our peers. As shown in the figure below, OPPD has some of the least expensive rates when considering all OPPD's rate classes (residential, commercial and industrial).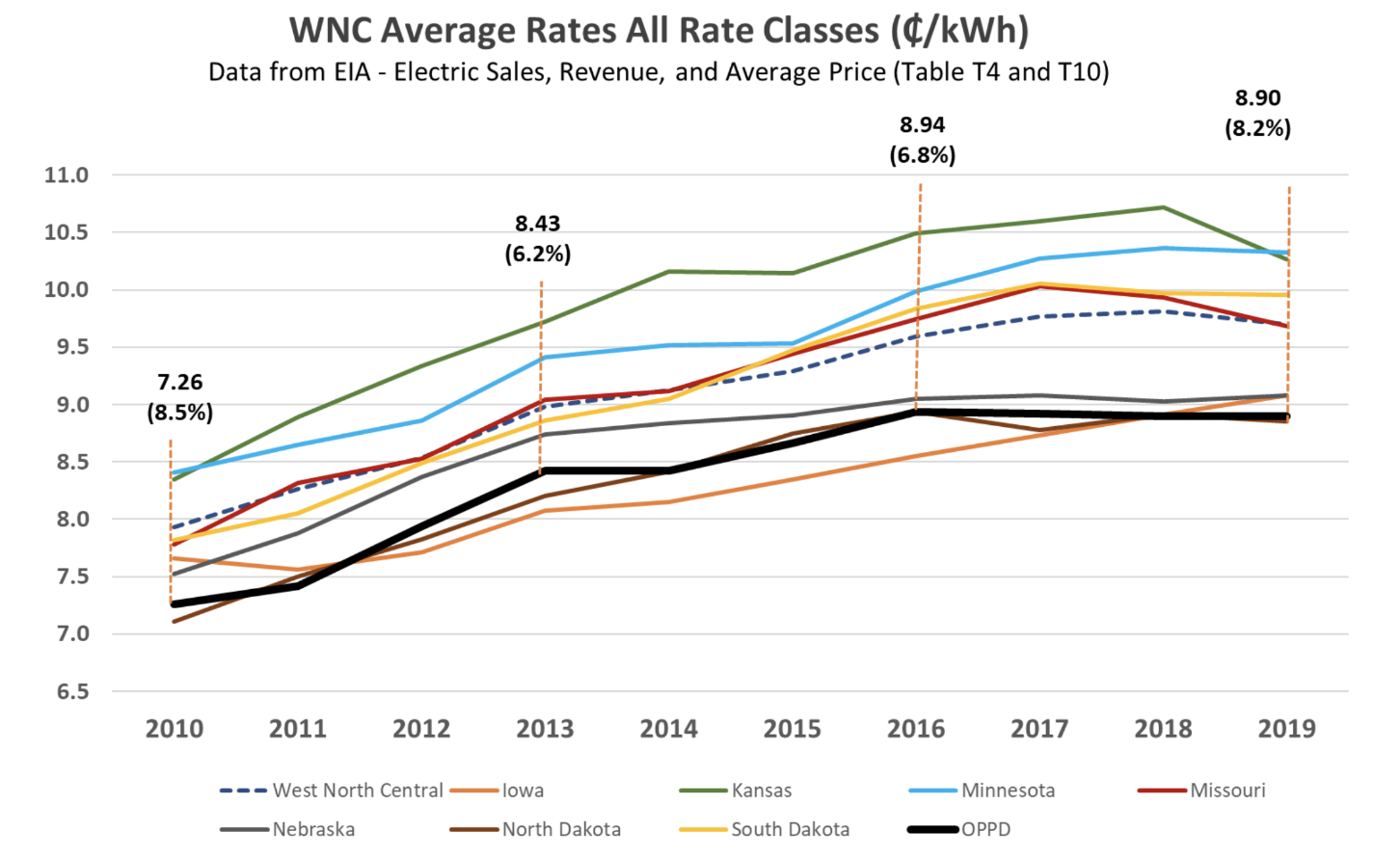 However, I think what you pay per kilowatt hour (kwh) is less important than what you pay per month. That's why OPPD is paying particular attention to other affordability indicators. As an example, we have examined the prevalence of energy burden within our residential customers and found the figure to be too high. As a such, we're piloting a program specifically aimed at decreasing the number of OPPD customers experiencing an electricity burden. I'm hopeful the program has a positive impact and can be expanded in the future.
Another key strategy to achieve greater affordability is through energy efficiency and conservation. The district has increased the number of programs aimed at helping its customer-owners use less energy, and these programs should continue to expand in the future.
Finally, OPPD played a critical role in helping its struggling customer-owners navigate the financial challenges brought on by the pandemic. The district works closely with partners from across the community to provide assistance and minimize barriers to obtaining help.
Second, reliability. OPPD plans for accredited generation resources that are 112% of the system's annual peak load. In other words, if you take the date/time when OPPD must produce the most electricity in the year - the district has the ability to meet that demand, plus another 12%. So, in short, we have sufficient electricity capacity to meet the needs of customer-owners.
Nevertheless, outages occur due to weather, squirrels, tree limbs, and equipment malfunctions, and outages are never convenient. The board's goal is for the system to be available 99.98% of the time, which is typically first quartile performance among peer utilities. I'm proud to say the district has achieved that goal 4 of the last 5 years. We know how important it is to keep the lights on and to quickly address outages when they occur.
In order to continue to do this, OPPD must continue to invest in its equipment. Whether that's the poles and wires you see everyday, or the generating equipment that creates the electricity. All of it is important and must be diligently maintained and improved. The board's role is to ensure sufficient financial resources are deployed to prioritize system reliability and resiliency.

Get Campaign Updates